January 30th, 2013 Brian Herzog
My library recently updated our policy for patrons replacing lost or damaged items.
The problem that arose is that patrons would check out a book (say, a non-fiction book that was five years old, with a price in the record of $30) - then they'd lose it, and eventually they'd get a bill for $30. Our previous policy said patrons could replace lost/damaged items either by paying for it or by supplying another copy of the book.
This meant that, instead of paying the $30, patrons would often find used copies of the item online, for just a few dollars, and give that to us as a replacement copy.
The problem was that often these books were in terrible condition (sometimes even discarded from another library, with their stamps and stickers still on it). Not to mention that there would often be newer versions of this item available, which we would want to get instead of the old outdated one.
So, we updated our policy to be:
Lost/Damaged item fees

NO REPLACEMENTS ACCEPTED FOR BOOKS
Book or magazine - patron is charged 100% of the full price
DVD, music CD, or videogame - replacement allowed only if it is new and still sealed in the original package, otherwise the charge is the same as books, 100% of full price.
Book on CD - $10 per CD (if the entire item is lost, then 100% of full price.)
Playaway, CD-ROM, kit - 100% of full price
Lost CD or DVD insert - $2
Lost CD or DVD case - $2 (so lost case & insert is $4)
Still not sure what to charge? Call tech svcs

What to say when patrons ask...

Why can't the library accept replacements for lost or damaged books anymore?

There are several reasons:

Many of the replacements we've been getting are used items in poor condition.
Replacing the exact same isbn can mean getting an old edition of a book when a newer edition is available.
In some cases, we don't wish to replace the lost item, and would rather use the fee to buy something new that we need for our collection now.

Why does a replacement DVD, music CD or videogame have to be new & still sealed in the package?

For similar reasons – we've received old and/or used items to replace things we wouldn't have bothered to replace at all.

Why is the replacement cost 100% of the full price? I can get it for less than that on Amazon!

True, but sometimes the items you get from Amazon are old and used, and you might not even realize it till it arrives.
Also keep in mind that when we replace a book or other item, it involves staff time to get the new item, catalog it, and process it to go into circulation.
This all happened a couple months ago. Then just a couple weeks ago, we received the following note from a patron: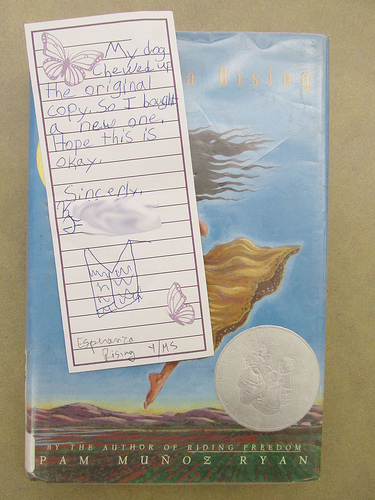 My favorite part is that she drew a picture of an open book on her note. Since the replacement copy she supplied was a brand new copy, and this title is still on the school's summer reading list, we just kept it.
Tags:
book
,
Books
,
damage
,
damaged
,
item
,
items
,
libraries
,
Library
,
lost
,
Policies
,
policy
,
public
,
replacement
---